As an organiser of the recent Docker Desktop workshop, I am excited to share my experience and insights on this dynamic event. With over 220 attendees, the workshop showcased the power and potential of Docker as a key technology for modern software development. 
The day began early, with me arriving at the venue at 8:45 AM to prepare for the day ahead. As attendees arrived, we quickly realised that the initial workshop room, with a capacity of 100 people, would not be sufficient to accommodate everyone.
To address this issue, we had to shift to the 10th floor, where we had another room with a capacity of 100 people. This was a challenge, but with the help of the venue staff, we were able to quickly relocate everyone and get the event started on time.
The morning kicked off with keynote speeches from industry leaders Amnic and Amazon Staff followed by a deep dive into Docker Desktop.
One of the highlights of the day was the lab, which was run entirely in a Docker container. This gave attendees a hands-on experience of using Docker to build and deploy applications, and helped to reinforce the key concepts and principles covered throughout the workshop.
One of the key themes of the day was the concept of a "developer journey," which was broken down into four stages: Crawl, Walk, Run, and Fly.
The workshop covered each stage in detail, starting with the basics of building a Docker image using Dockerfile in the Crawl stage, and progressing to more advanced topics such as Docker Hub/Registry, building microservices, Docker Compose, and Docker networking in the Walk and Run stages.
Along the way, attendees had the opportunity to work with a real-world application, the todolist app, and see how Docker can be used to achieve best practices and maintain database persistence.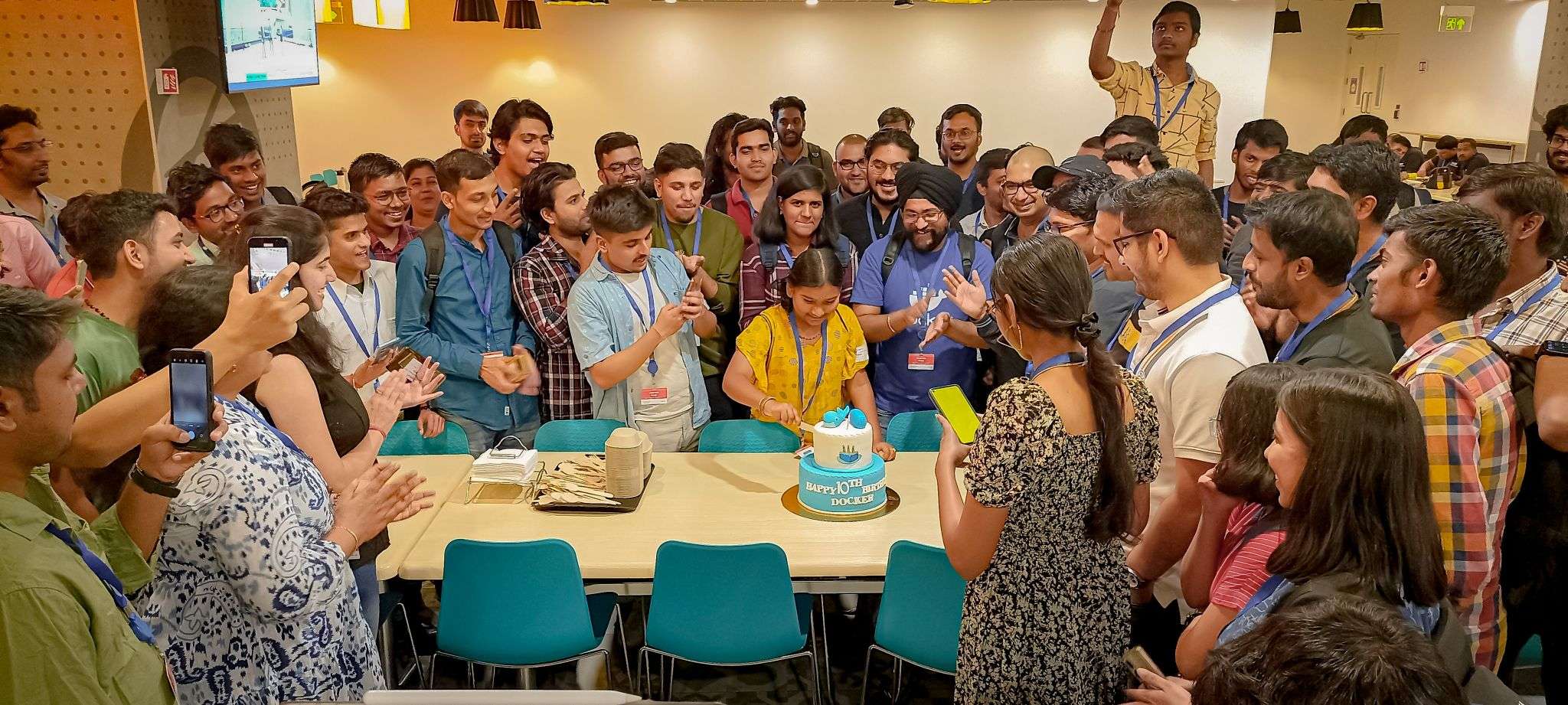 As a fun and tasty way to wrap up the day, we enjoyed cake cutting, with a Docker whale and container topping the cake. Despite the delicious treat, the learning did not stop there. We relocated to the 10th floor to re-conduct the same lab for the people who missed out on the morning session. This provided even more opportunities for attendees to develop their Docker skills and explore the power of containerization.
Overall, the Docker Desktop workshop was a resounding success, and I am proud to have been a part of it. The enthusiasm and engagement of the attendees demonstrated the growing interest in Docker and its potential to transform the way we build and deploy software. As we look to the future, I am excited to see how Docker will continue to evolve and innovate, and I am confident that events like this will play a key role in driving its growth and adoption.
Thanks to Vishwas Narayan,  Sathya Narayanan,  Parichaya Kanungo for all their support and help in making this event successful. Thanks Avinash Dalvi for conducting Docker Quiz and Shubhendu Shubham for the wonderful candid clicks.
Please follow and like us: