"As you grow up, make sure you have more networking opportunities than chances, and more collaborative approach than just an acquaintance. Reason  ~ "Sharing is Caring".
Docker's Birthday Celebration is not just about cakes, food and party. It's actually a global tradition that is near and dear to our heart because it gives each one of us an opportunity to express our gratitude to our community of contributors, customers, partners and users. The goal of this global celebration is to welcome those new to Docker and bring them up to speed through hands-on labs with the help of more advanced users who act as mentors on-site.
This year, celebrations all over the world took place March 19-25, 2018. Yesterday we celebrated Docker's 5th Birthday in Bangalore at Altimetrik Office, Electronic City. This time I was lucky enough to get chance to lead this event.
I started planning for this event in the first week of March. Started interlocking with  Community Marketing Co-ordinator, Docker Inc. and ordered for Docker Mentor T-shirts, birthday stickers & Docker crafted Balloons. It just took 1 week time to get it shipped to Bangalore address. Quite quick, isn't it? A Special thanks to Lisa McNikol for helping me with these stuffs. Next, Neependra Khare, Founder of CloudYuga & Docker Bangalore Meetup organizer initiated a thread for looking out Mentors for the event. Around 10+ community members turned up to mentor the participants for lab sessions. I started interlocking with them for the lab preparation. A BIG SHOUT OUT to each and every mentors (names listed towards the end) as I find them quite interested and were very quick in completing the testing with the lab sessions. Few of the issues reported were fixed and handled smoothly.
Next, it was time to work with the organizers at Altimetric India. A special thanks to Sonali Baluni, Altimetrik Employee for multiple interactions on phone and emails for planning this event. Over 30+ balloons, 5kg Docker Birthday Cake, goodies for organizer and participants, smoothening WiFi connectivity & Backups were planned for the day.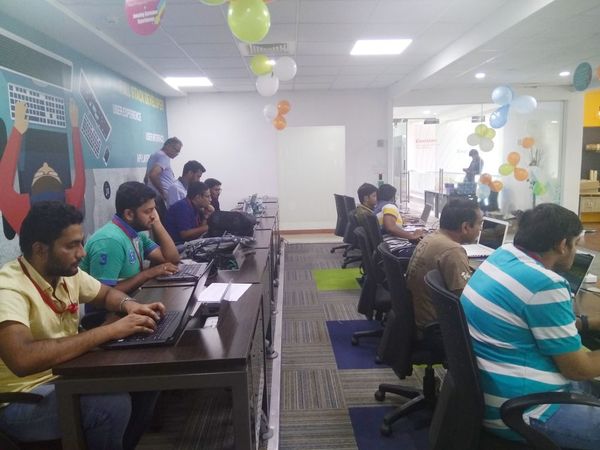 Over 200+ participants signed up while 50+ turned up for this event. This was expected as we just completed Joint Meetup with 8 vibrant groups last weekend in Walmart Office. I reached venue at around 8:30 AM and was stoked to find wonderful ambience in place. Worked with organizers to arrange Docker T-shirts and Balloons for the participants, distributed Mentors T-Shirts so that they can get ready for the celebration.
I started the Birthday celebration with an attention grabber –
Talked about the agenda for the day which included more networking, mentorship & lab practice as shown –
Next, I asked each of Docker Mentors to introduce themselves to the group. Mentors are group of experts targeted to help the participants with the lab sessions.
Most of the participants followed the instructions on their own and where ever needed, mentors helped the participants. There were around 5 Lab sessions categorised under Docker 101, MTA with Java and .Net applications, Kubernetes and Hybrid OS applications. You can find it under https://github.com/dockersamples/docker-fifth-birthday
At 11:30 sharp, we did a cake cutting. We gave chance to youngest member in the group to do this honour.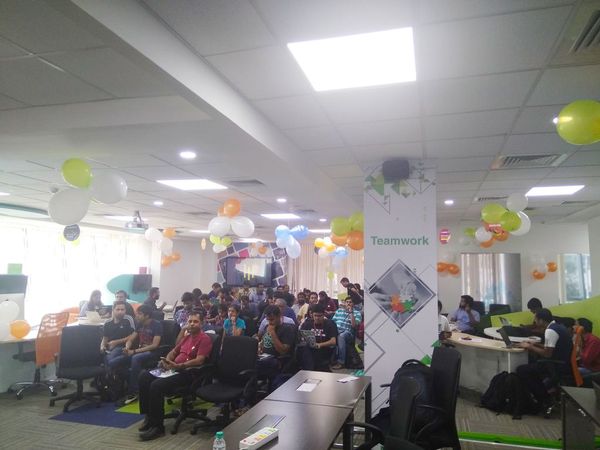 This time I focused on networking and spent considerable amount of time interlocking with the participants. I met with new Community members and tried to understand how they are using Docker. Few of interesting questions from the community were –
What is Serverless?
How to get started with OpenFaas?
How to become Docker Mentor?
Why we switched to Kubernetes? Issues around Docker EE UCP.
How to containerise 20-years old Monolithic Legacy Application inside my organization?
What is RexRay & its architecture?
When can we expect K8s under Docker CE on Linux Platform?
A Query around AWX – An Alternative to RedHat's Ansible Tower?
When shall I use Kubernetes & when to use Swarm?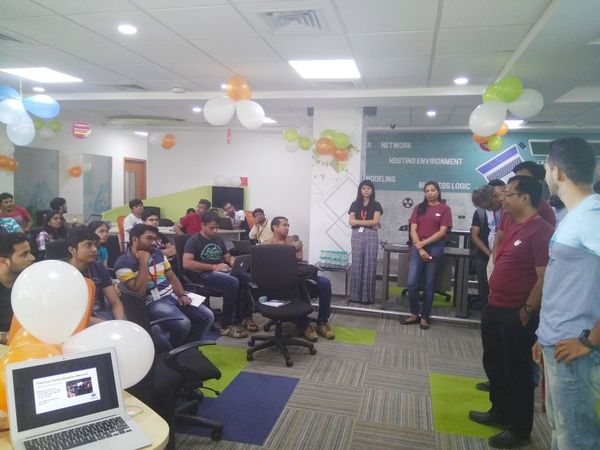 I am planning to come up with blog post around most of the queries in the near future.
Thank You –
Mentors (Suraj Narwade, Yogesh Kad, Mamta Jha, Shanthi Kumar, Jibin George, Shankar, Kumara K, Vishan Ghule, Y Ramesh Naik, Savitha Ashture, Saurav Kumar, Swapnasagar Pradhan – For effective Mentorship
Mano Marks, Elton & Marcos Nills – For the robust PWD Platform for Lab workshop
Sonali Baluni & Team, Organizer ( Altimetrik India)
Lisa McNikol – Community Marketing Co-ordinator, Docker Inc.
Jenny Burcio – Sr. Program Manager, Developer Relations and Advocacy, Docker Inc.
All Participants
What I liked most about this Meetup is the energy and curiosity that the participants have. It was a blast discussing with, answering and questioning all the keen minds that make up this community.
Dockercon 2018 is happening this June 12-15. I have plan to attend this event.  Would be completely excited to meet more members of the Docker community over at DockerCon in June and hope to bring home interesting knowledge and tips & tricks for the larger Docker Bangalore Meetup to gain from.
Thanks to all you there who participated to make this event a blast !
Please follow and like us: