Yesterday I attended Open Source India 2014 event which happened in NIMHANS Convention Center, Bengaluru. If you are new to OSI, let me brief you that the Open Source India is around 11 years old and believe me..its Asia's largest convention on open source technology. Founded by EFI group, the main motto of this organization is to bridge the gap between industry and the open source community. This event is  a step forward for bringing some successful open source implementations  in the form of keynotes, discussions, workshops.
I reached out to the venue at around 9:30 AM. I was pretty aware of the event schedule.The two-day event featured tracks on topics including Web App Development, Mobile App Development, IT Infrastructure Day, Cloud Day, Kernel Day, Database Day, FOSS For Everyone, IT Implementation Success Stories and Open Stack Mini Conference.
HP was the platinum partner while Microsoft, MongoDB, Wipro, Oracle, Zimbra were the other vendors who were ready in their booth to welcome you with their open source offerings. I took the first 20 minutes visiting each booths just to have a glimpse before I entered into Hall-1 for the morning keynote.
Rajeev Pandey, an HP Distinguished Technologist, started the keynote on "A Deployment Architecture for OpenStack in the Enterprise". He talked about HP Helion Cloud and its offering but with the disclaimer that its open source event and what open source offering HP has.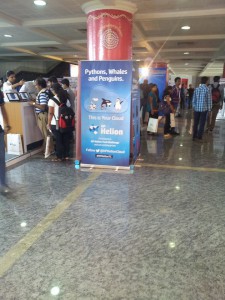 "FOSS Adoption in four classes of institutions in India" was next topic of discussion.  The speaker shared very interesting survey on the open source adoption by research organization, Higher education, government and IT-SME. The survey is public and published under http://www.au-kbc.org/survey
The session titled "Free & Open Source Enterprise Linux" by Kamal Dodeja, Global Sales consulting Manager, Oracle India was well presented and very informative. Oracle speaker talked about the contribution towards XFS, MySQL, Virtualbox, OpenJDK, Xen, Java, .Net, dTrace, Eclipse, Metro, InnoDB and Glass Fish.
I raised a question regarding the latest inclusion of MariaDB by RHEL 7 replacing MySQL and the speaker looks convincing on this as he said that if you are MySQL user looking for support, you come to us...and if you want to play around with code, then explore through MariaDB. It was interesting to see that even if MySQL core is still open source, the Openstack recently in their icehouse recommends MariaDB rather than MySQL. This was very interactive session and good to know how Oracle has still preserved their open source offering after Sun acquisition.
It was a tea break and lunch too. I skipped a session on Wikipedia as I want to make myself ready for post Lunch event. The HP Helion sales team knows how to sell their product and had tech challenges in place.Soon I left for next event "OpenStack Mini Conf".
I bagged HP Helion Jacket answering one of the query related to "Rackspace". It was a great feeling altogether and a good interactive session. It was followed by "State of the Doplhins & the Penguins" by Sanjay Manwani, MySQL, India Driector and Ramesh Srinivasan, Senior Director, Oracle Linux and Virtualization. This session covered a complete history of Open Source movement by Oracle till date, timeline with their FOSS contributions.
"OpenStack Development and Contribution Workflow" by Swapnil Kulkarni was the next topic which I was eagerly waiting for. The speaker talked about step by step implementation of Openstack and how to contribute to the openstack through git. Though it was complete demonstration, the small font of Linux commands was something which put the audience to boredom. However, I appreciate his knowledge and subject matter expertise. I answered to couple of questions related to github during this session.
Skipped for tea in between, as I was eagerly waiting for next big session" Open stack Nova Deep Dive and Nova Instance Management lifecycle". This was truly a great session. Anil Bidari is a trainer at Cloudenabled and very well presented about "Behind the scene while you fork any instance". He referred to https://www.youtube.com/watch?v=Y0GBxFYeM1s as one of his openstack demo he has put for everyone. I am eagerly waiting for his recorded presentation. Simply awesome presentation !!!
"Ironic" - something very new to me, was next topic from HP Helion Group. Ironic is a bare metal provisioning tool which has been recently incubated into Icehouse edition. The presentation was very descriptive. Ironic architecture was presented well. I had couple of questions as it was very similar to Puppet Razor and it was answered convincingly.
It was 6:00 PM and the event was soon to be wrapped up for the next day. But still I had an enough energy to listen for more speakers. The last but not the least was something I was keen to attend - "Docker as hypervisor driver for OpenStack Nova Compute".
Docker is an open platform for developers and system administrators to build, ship and run distributed application. This is something which is coming up and could be threat to virtual world. To explain in simple words, if you have Fedora VM  you use user libraries/binaries + kernel component. While we say Fedora Docker, it means you just need user libraries(and not kernel components). It is a concept very closely related to user namespace.
Overall, the event was very informative. I met with couple of college students, Cloud experts and interacted with vendors.
Please follow and like us: