Are you interested in learning more about Graph Databases and Docker? Do you want to connect with like-minded professionals and expand your network in these areas? Then mark your calendars for March 11th, 2023, because the Docker Bangalore and Graph Database Bangalore Meetup groups are coming together to host a half-day event that you won't want to miss!
This event will bring together developers and DevOps practitioners who are interested in Graph Databases and cloud-native technologies. It's an opportunity for you to learn from industry leaders, showcase your own work, and make valuable connections with peers who share your interests.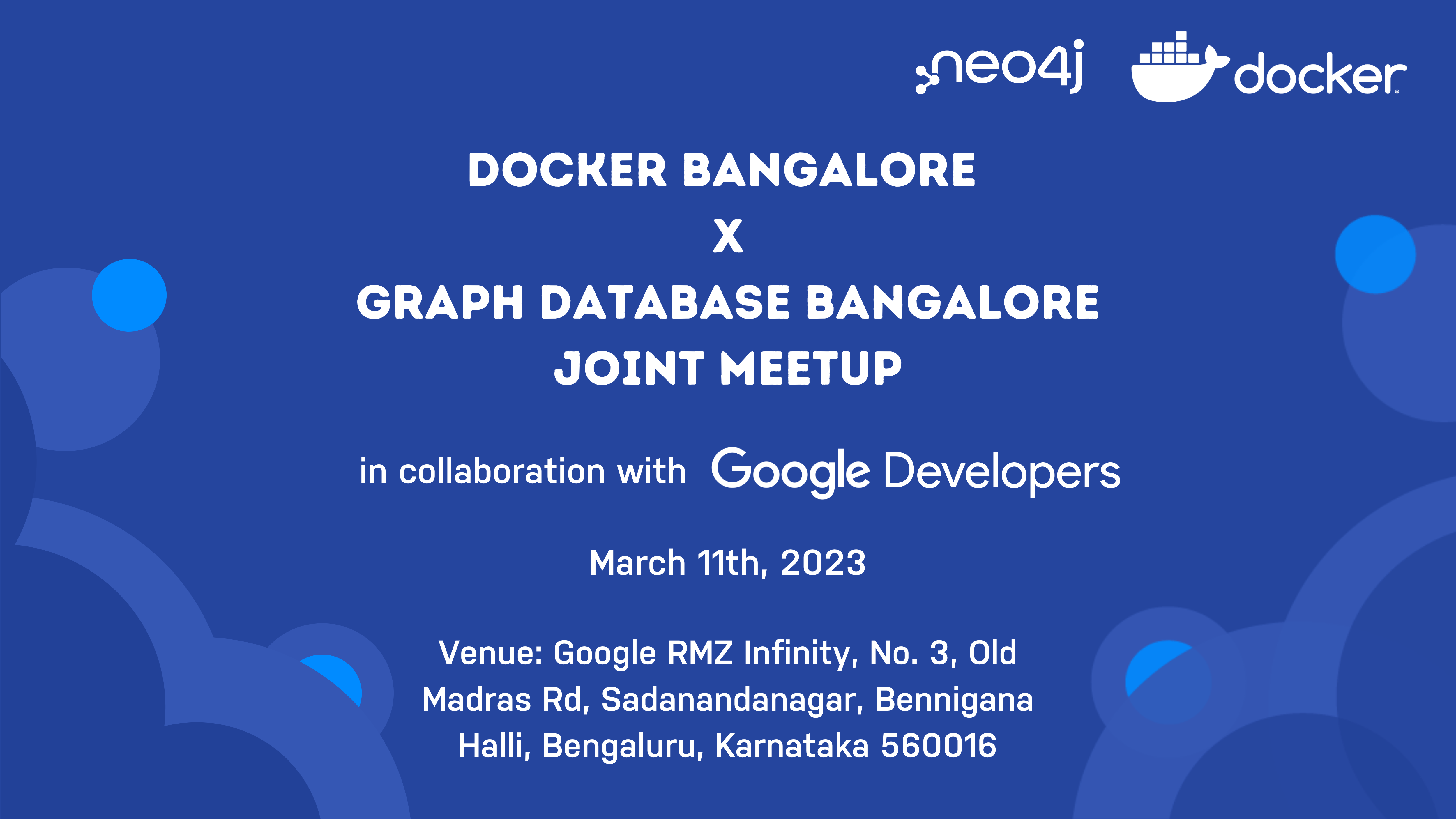 The event will take place in-person at Google RMZ Infinity in Bengaluru, Karnataka. The agenda includes talks from several experts in the field, including:
Ajeet Singh Raina, Developer Advocate @Docker, who will present on "Connecting Real-Time Sensor Data to Neo4j with Docker Extension: A Comprehensive Guide."
Siddhant Agarwal, TechCommunity Manager APAC @Neo4j, who will talk about "Graphs are Everywhere."
Vishwas Narayan, Community Evangelist @Devtron, who will discuss "Vertex AI and Graph Database."
Abhishek Das, Full Stack Developer @SchoolOkay, who will share insights on "Breaking the Ice on Graph Database using Neo4j and Docker."
Each talk will be 30-35 minutes long, providing attendees with a comprehensive overview of the topic and plenty of opportunities for Q&A and discussion.
In addition to attending the talks, you'll have a chance to connect with other professionals in the field during networking breaks. This is a great opportunity to share your own work, learn from others, and expand your professional network.
If you're interested in attending this exciting event, be sure to register today! You can reserve your seat by filling out the form at https://tinyurl.com/jointmeetup. And if you're interested in presenting your own talk, the CFP is still open – you can submit your proposal at https://www.papercall.io/jointmeetup.
Don't miss this chance to connect with other Graph Database and Docker enthusiasts in the industry. We hope to see you there!
Please follow and like us: