With 100+ sessions, 200+ speakers & tons of sponsors , Arm DevSummit is going to kick-off next month. It will take place virtually from October 6-8, 2020. Arm DevSummit is Arm's new flagship annual conference bringing the best of Arm TechCon with an expanded focus of the technical conference for both software developers and hardware designer's communities. It is a replacement for the long running Arm TechCon(15+ Years) with a new focus on software developers.
Arm DevSummit 2020 will solely be a virtual conference in 2020. It is a newly announced technology conference presented by Arm and its ecosystem that will take place exclusively online next month virtually. The event includes keynotes, technical sessions, BoFs, panels, tech talks, and comes with much more exciting agenda. Program highlights include immersive keynotes from Arm, Netflix, Volkswagen, Microsoft, and more , online networking with industry peers, technical sessions and workshops where software developers and hardware designers can advance their skills to the next level. The program will cover topics from best practices for cloud-native and mobile app development, tackle industry challenges for autonomous technology to deep dives in machine learning, IoT, infrastructure as well as explore the latest advancements in chip design. It is a completely new event designed for software and hardware engineers focused on the latest advancements in mobile, HPC, autonomous technology, AI, ML, IoT and chip design.
What's cool about this conference?
Arm DevSummit 2020 virtual conference brings engineers and developers from both software and hardware into one place to learn, exchange knowledge, discuss real-world use cases and solutions and get hands-on with expert-led, deep-dive trainings and workshops. Arm DevSummit is where software and hardware meet. It's the place that engineers and developers connect and collaborate on the latest applications and the semiconductor solutions that enable them.
During this technical conference, engineers and developers will advance their skills to the next level with best practices for cloud native and mobile development, tackle industry challenges for autonomous technology, machine learning, IoT and infrastructure, all the way to exploring the latest advancements in chip design.
Arm and its ecosystem provide deep insight into foundational hardware, enabling software development teams to build, deploy and manage the world's best performing, richest and most impactful next-generation experiences through artificial intelligence, automotive, internet of things (IoT), security and 5G.
This year's event includes eight technical tracks covering all aspects of Arm and Arm ecosystem solutions.
AI in the Real World: From Development to Deployment
Building the IoT: Efficient, Secure and Transformative Software Development
Chip Design Methodology
Cloud Native Developer Experience
Creating the Next Generation of Interactive Experiences
Infrastructure of Modern Computing
Tech for Global Goals: The World's Largest To-Do List
The Journey to Autonomous
This year I'm excited about RedisAI & Redis Streams talk from Redis Labs. Andre Srinivasan, Global Solution Architect will be talking about how combination of ARM , Redis Streams & Redis AI work for Low Latency Inferencing at the Edge. As I am currently working on Redis AI on NVIDIA Jetson Nano board for my Pico 2.0 project, I believe that this talk is going to be super useful for me.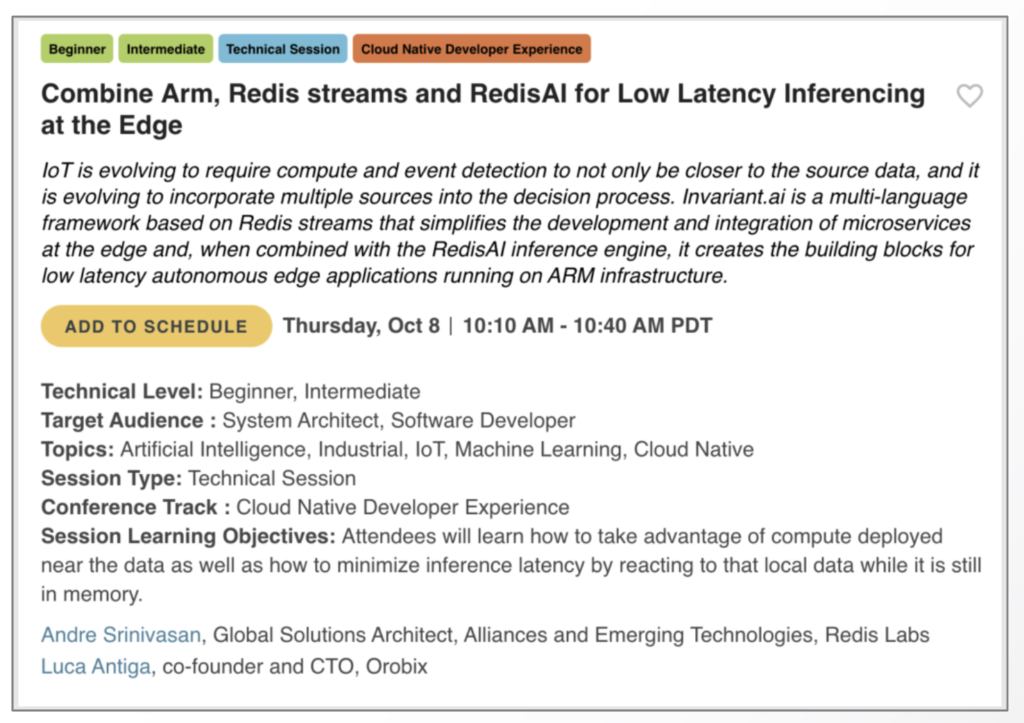 I am also excited to attend "Cloud Native Development with Docker deployed on Arm" talk by Justin Cormack, Docker Inc. & Marc Meunier, ARM.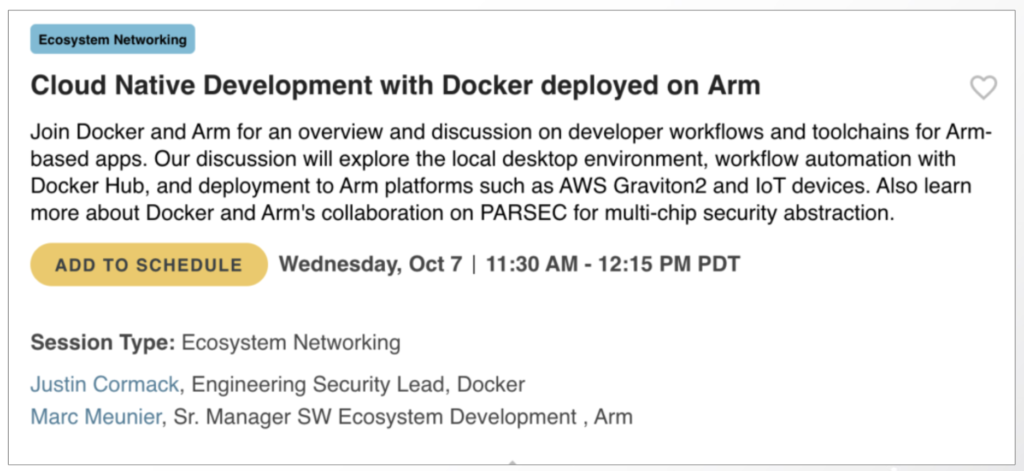 Arm DevSummit is a new kind of hands-on and minds-on technology event. It's built around the notion of connections; connecting global communities of software developers and hardware engineers across all fields in one forum so everyone learns and collaborates, helping to create an even more successful future for everyone. As promised, here are top 5 reasons why you shouldn't miss out ARM DevSummit:
100% Virtual Event
This year's ARM DevSummit will be completely a virtual event which includes keynotes, technical sessions, BoFs, panes , tech-talks and much more.
There will be 8 Conferences tracks where you get opportunity to join expert-led educational courses covering the entire technology stack. The Arm DevSummit conference agenda is filled with ways for software and hardware engineers to learn, connect and develop. Join technical sessions across 8 conference tracks, deep-dive workshops, panel sessions, expert office hours, ecosystem talks and more.
Keynotes from ARM, Netflix, Volkswagen, Microsoft, and more..
This year's Arm DevSummit will hold 3 days of keynotes where you will get opportunity to hear from Arm and industry visionaries about the trends underpinning the future of technology. You will get to hear from Arm CEO Simon Segars where he shares his vision admist of how technology is playing a key role in shaping the world's response to the virus. Below are the list of promising keynotes which you just can't miss out:
A New Infrastructure for a New Era by Senior Vice President and General Manager of Infrastructure Chris Bergey
How Software Influences the Arm Architecture by Arm's Chief Architect Richard Grisentwaite and VP Open Source Software Mark Hambleton
The Future is Being Developed on Arm by Arm Intellectual Property Group President Rene Haas
The Software Side of Arm by Mark Hambleton, Vice President, Open Source Software, Arm
Microsoft: Building for an Arm Ecosystem by Arun Kishan, Technical Fellow, Microsoft
Customised Agenda Builder
To facilitate the best experience for all participants, limited spots will be available for workshops. Be sure to sign-up for workshops before they sell out. This time customised agenda builder have been introduced. All you need is register or login to begin building your custom schedule. You can use filters to find sessions of interest and favourites you would like to attend. You can then use "Add to Schedule" to enroll in a session and it will get added to your calendar. In calendar, when logged in you can visualise your scheduled sessions
Networking & Community Forums
This time you will get to see Rec room where you will be allowed to take a break, play games, share, connect and have some fun. You can earn rewards by testing your knowledge, earn badges and share prizes with non-profits. You will get chance to share ideas, ask questions and engage with your peers and future collaborators.
Workshops on ML, DL, Cloud Native Developer Experience & Security
This year in ARM DevSummit, there will be tons of deep-dive workshops which will provide hands-on experience in areas such as implementing machine learning and protecting against security vulnerabilities. You will get chance to learn how to overcome design challenges in these interactive and in-depth sessions. Topics like Cloud Native Networking and Service Mesh, Secure IoT Lifecycle Management ,Autoware – Open Source Software for Autonomous Vehicles, Live Treasure Hunt With an Arm-based Robot – Misty etc. are few of the interesting workshop which might interest you.
To facilitate the best experience for all participants, limited spots are available for workshops. Each Workshop Plus session is an add-on to registration, $79 each. Several of the Workshop Plus sessions include development kits. Click Here to learn more about the workshop.
References:
Please follow and like us: