Are you still thinking whether or not to attend Dockercon 2017? Still finding it difficult to convince yourself or your boss/manager to allow you to attend this conference? Then trust me, you have come to the right place. For the next 30 minutes, I will talk about the great sessions which you can't miss to attend this year.
Dockercon 2017 is just 1 month away. Heavily power-packed with 3 keynotes( includes Solomon Hykes impressive talk), 7 tracks, 60+ breakout sessions, workshops, Ask the Experts, Birds-of-a-feather, Hands-on Lab, Ecosystem expo and lot more.. this year DockerCon 2017 brings a three-day impressive event schedule in capital of the U.S. state of Texas, Austin.Featuring topics, contents & workshops covering all aspects of Docker and it's ecosystem,Dockercon has always given a chance to meet and talk to like-minded professionals, get familiar about the latest offerings, upcoming Docker releases & roadmap, best practices and solutions for building Docker based applications. Equally it has always provided opportunity to the community users to know what and how are they using Docker in their premises and in the Cloud.
April 17-21 2017 | Austin, TX | DockerCon 2017
Dockercon 2017 is primarily targeted for Developers, DevOps, Ops, System Administrators, Product Manager and IT executives. Whether you are Enablement Solution Architect for DevOps and containers, OR Technical Solution Architect; whether you are part of IoT Development Team OR AWS/Azure DevOps Engineer; whether you are Principal Product Engineer OR Product Marketing Manager, Dockercon is the place to be. Still wondering how would this conference help your organization in adopting containers and improving your offerings in terms of containerized application for your customer? I have categorized the list of topics based on the target audience. Hope it will help you gather data points to convince yourself and your boss.
As a developer, you are a core piece of your organization, busy developing new versions of your flagship software meant to run your software in various platforms. You are responsible for developments leveraging the target containerized platform's capabilities and adapting and maintaining release artifacts to deliver a compelling experience for your users.Below lists of sessions might help you to develop the better containerized software -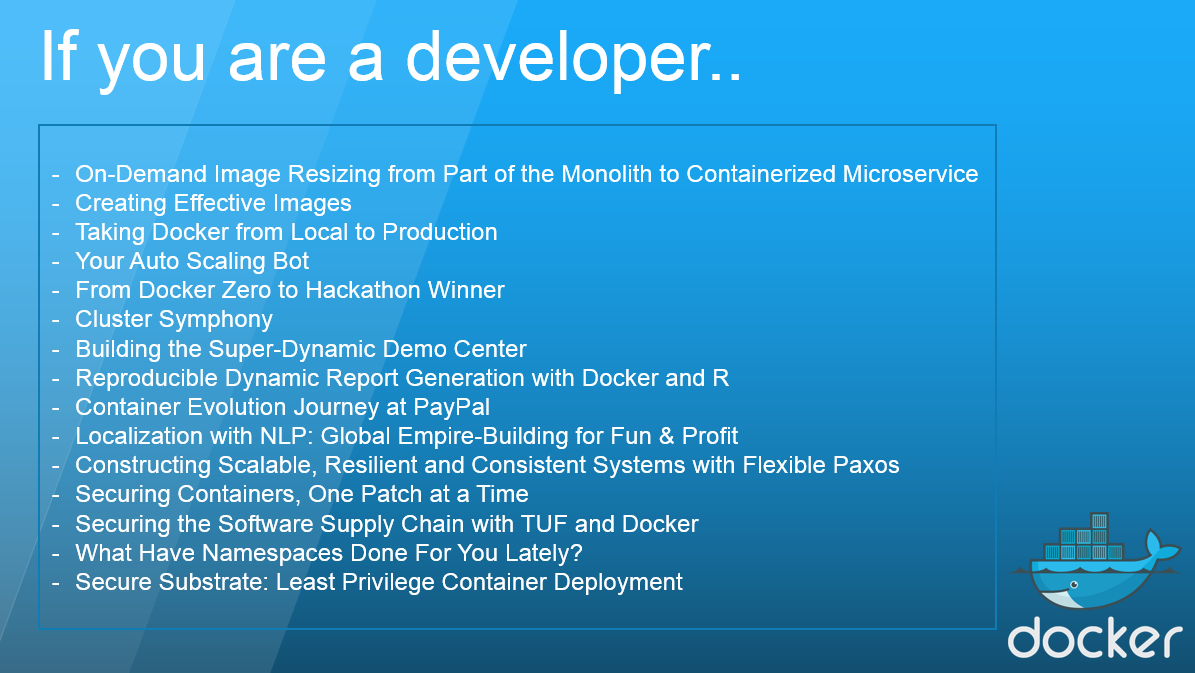 As a Product Manager, you are actually CEO of your product and responsible for the strategy, roadmap, and feature definition for that product or product line. You love to focus on the problems, not on the solutions. You are gifted to excel at getting prospects and customers to express their true needs. Below list of the sessions might interest you to attend:
As a system administrator, you are the only person who is responsible for the uptime, performance, resources, security, configuration, and reliable operation of systems running Docker applications . Below sessions might interest you to manage your Dockerized environment in a better way -
As a Solution Architect, you are always busy with definition and implementation of reference architectures, capturing business capabilities and transform them into services leveraged across the platform and not to miss out - designing infrastructures for critical applications and business processes in a cost effective manner. Below lists might interest you to shape your containerized solutions in a better way: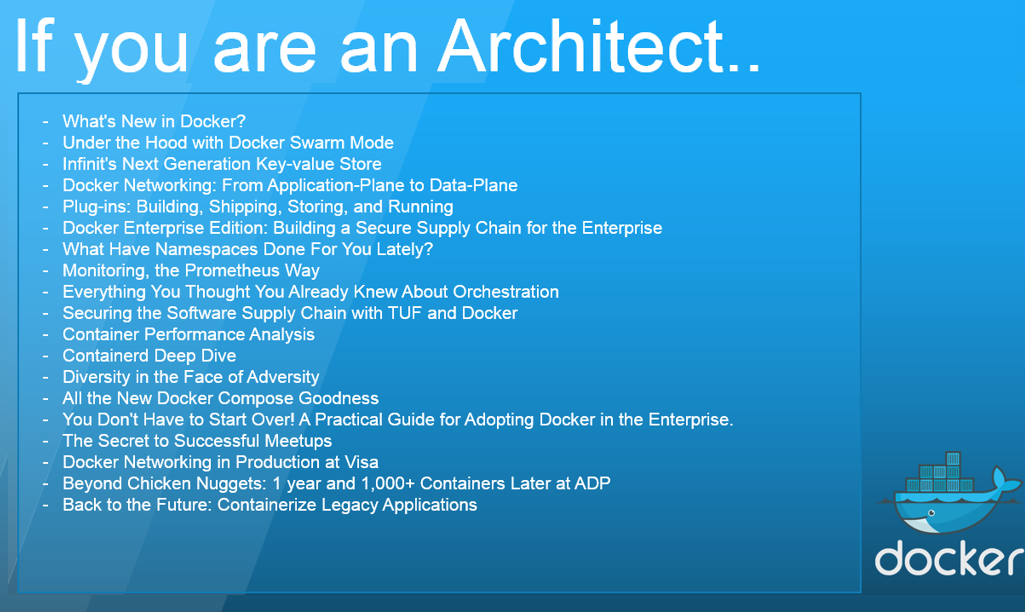 Don't you think attending Dockercon gonna be a great investment for you and your career?If yes, then what are you waiting for? Docker Team has something really cool for you to get started -
DockerCon Agenda Builder - Browse and Search Your Session
Dockercon Speakers at a glance
For more information, visit http://2017.dockercon.com/about/
Please follow and like us: